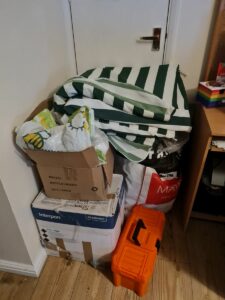 That dreaded feeling of clearing out the clutter this time of year. Christmas has been and gone and spring is in the air and our spirits are lifting with longer days. We become agitated with all the clutter and procrastination kicks in.
Such a big task can be overwhelming, but not only will it benefit the environment around you but getting stuck in can bring great benefits your mental health.


It gives you a sense of control.


Make it calming and/or energising. Stick your favourite tunes on and have a boogie whilst you do it.


The exercise does you good. We all know that but depending on how much of a hoarder you are, the clearing and cleaning might utilise those muscles that you might not normally use.


All the waste removal can make the air around you cleaner and clean air is good for the lungs.
Tips:
Invite a friend (or two!) the more the merrier and many hands make light work.


Clean room by room rather than try and attempt various tasks at once.


Clear the clutter! Dont just stick everything in a bag and hide it away. You want to maximise your space to feel the full benefit.


Always clear from the top down to prevent lower space from getting dirty again.


Most importantly of all, once everything is sorted and bagged, contact us and we can sort the waste removal and you can put your feet up and admire a job well done 🙂